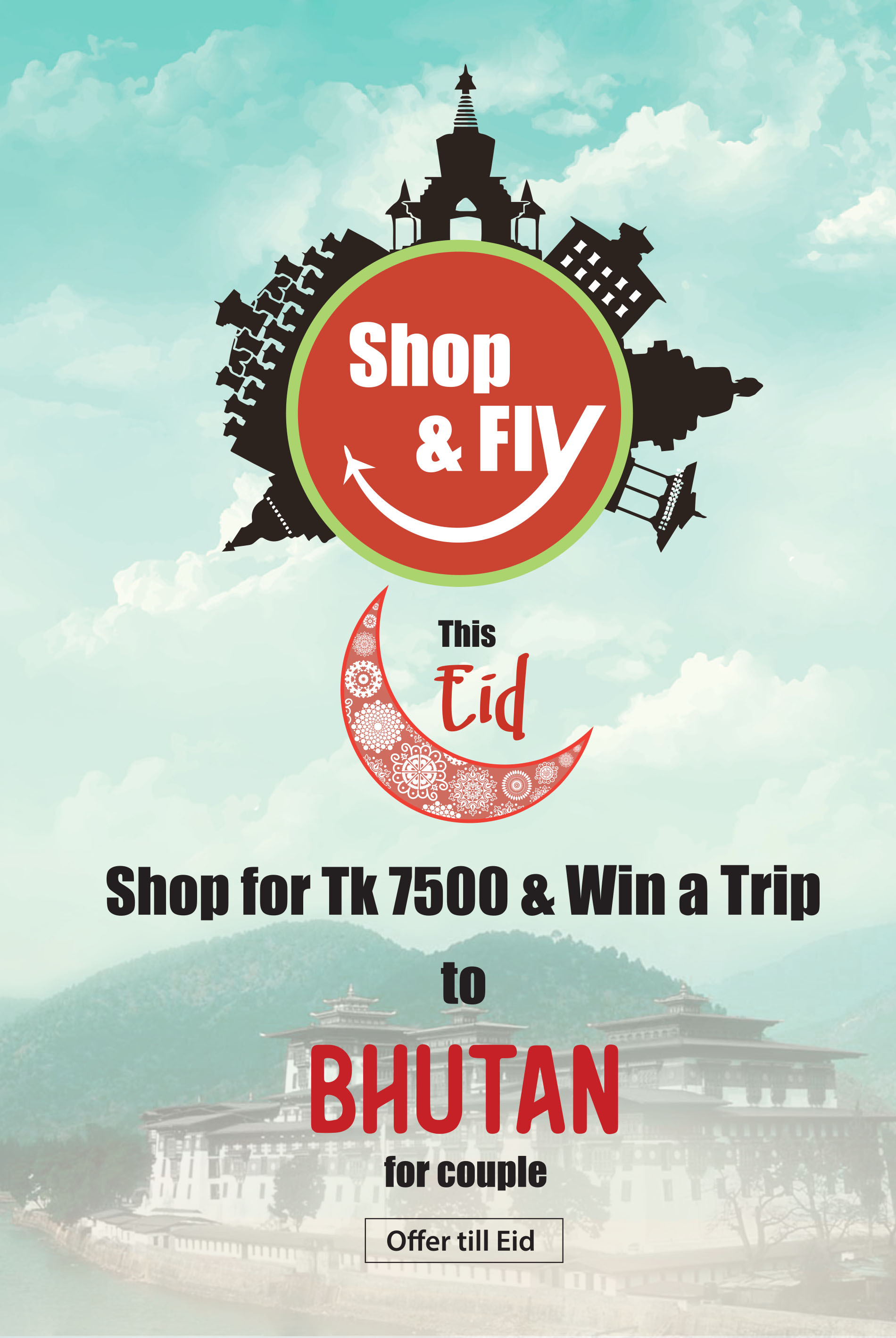 Terms & Conditions
1. Shop & Fly is a Lucky Draw Contest & 4 winners would be given the prize based on lucky draw.
2. To participate in Shop & Fly Contest, Customer's minimum net purchase amount should be Tk 7500/- or more. Offer is Valid until Eid.
3. Customers availing any other discount or offers are eligible to participate in the contest however their net purchase amount after all discounts & Offers should be Tk 7500 or more.
4. Customer's Mobile number is mandatory to participate in the contest.
5. All participants need to drop their printed Coupon in the Drop Box placed inside the store on the day of Purchase to be considered for the upcoming scheduled lucky draw.
6. Four Winners will be chosen by the Lucky Draw Contest scheduled on 12th, 19h, 26th May & 15th June.
7. Prize include Return Economy Airfare, 2 Nights & 3 Days Accommodation with Breakfast & Air Port Transfers for a Couple in Bhutan. All other expenses including meals & sightseeing isn't the part of the prize.
8. Winners to be intimated by Call & informed with the date & venue to come & collect the Prize Certificate in person.
9. Winners can travel any time after 15th June 2019 to 15th December 2019, however have to inform Le Reve Admin Team 3 weeks prior to travel to arrange all the tickets & accommodation.
10. Reve Group employees are not eligible to participate in the contest if they use corporate discount cards.
11. Management decision will be the final one in case of any dispute.
12. Offer is exclusively available at all Le Reve stores & online.